Microsoft Dynamic AX
Microsoft Dynamics AX is the ERP solution that lowers your risk. Why? Because it is a complete solution, composed of workload services that are designed together but can be deployed independently to cover the full anatomy of the enterprise. The demands of an agile business require this kind of flexibility, and the ability to mitigate risk.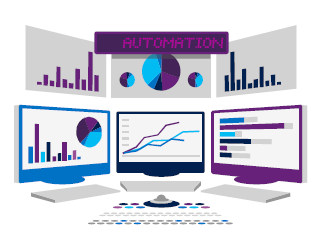 CHOOSE YOUR SOLUTION
Compatibility with legacy systems: keep your existing solutions.
Industry specialization: innovative, industry-specific functionality for manufacturing, distribution, retail, professional services, public sector, and other key industries.
Customization: multiple integration scenarios to satisfy a range of business requirements with industry-specific operations scenarios.
Integration with existing systems: tight technology integration across Microsoft products.
MICROSOFT DYNAMIC At-a-Glance
Point of Sale, Assisted Sales, and centrallized store management
e-commerce and social media
Omni channel management
Order management, processing and payment
Merchandising and catalog management

Lean, Process & Discrete Manufacturing
Product Configuration
Shop Floor Management

Sales force & marketing automation
Lead & opportunity management
Sales & case management
Service management
Rebates, Royalties & trade allowance management
Microsoft Dynamics CRM connector

Direct & Indirect procurement
Purchase requisitions
Supplier relationship management
E-Procurement & Vendor self – service portal

Inventory management & demand forecasting
Multisite advanced warehouse management
Order promising
Distribution planning
Transportation management
Quality management

Project accounting & invoicing
Grants management
Project cost control
Work breakdown structure
Interoperability with Microsoft project

General Ledger
Accounts receivebles & playables
Commitmen accounting
Cash & bank management
Shared service & consolidation
Budget planning & control
Compliance management

Standard & Analytical reports with microsoft SQL server
Reporting service
Role tailored, pre-defined data cubes
Dashboard views with KPIs
Self service reporting

Core human resource management
Talent management
Workforce management
Travel & Expense