What is Robotic Process Automation (RPA)?
Robotic Process Automation is the technology that allows anyone today to configure computer software, or a "robot" to emulate and integrate the actions of a human interacting within digital systems to execute a business process. RPA robots utilize the user interface to capture data and manipulate applications just like humans do. They interpret, trigger responses and communicate with other systems in order to perform on a vast variety of repetitive tasks. Only substantially better: an RPA software robot never sleeps and makes zero mistakes.
You Face Pressure from Many Sources
Increase Revenue
& Lower Costs

Improve Customer
Satisfaction

Increase Employee
Engagement

Reduce Complience
Risk
What Can Automation Do For You?
Robotic Process Automation
Emulates a Person by Executing Manual, Repetitive Tasks

Makes Decisions Based on Set Rules

Seamlessly Integrates with Existing Applications
Customer Outcomes
Accelerate Benefits From Digital Transformation

Improve Customer Experience

Reduce Compliance Cost and Risk

Increase Employee Satisfaction and Engagement
---
What Can Software Robots Do?
UiPath Indonesia RPA Document Extraction – Download PDF Email and Input to SAP Business One
UiPath Demo – Collecting Sales from Marketplace Tokopedia to SAP Business One AR Invoice
UiPath Demo – Transfer Data from e-Commerce/Marketplace Report to SAP Business One AR Invoice
UiPath Demo – Create CSV e-Faktur From Sales Data
---
Anything That Can be Automated, Will Be
Finance

Process-to-Pay

Order-to-Cash

Record-to-Report

Supply Chain

Inventory Management

Demand & Supply

Planning

Invoice & Contract

Management

IT

Server & App Monitoring

Routine Maintenance & Monitoring

HR

Payroll

Onboarding & Offboarding

Benefits Administration

Customer Services

Address Change

Password Reset

Payments

Scheduling Appointments

Order Modifications
---
Ways Humans and Robots Can Work Together
---

Example:
All work is manual

---

Example:
Call center robot pulls info into agent system; saves retyping so agent focuses on customer

---

Example:
HR Robot works with onboarding team to provision a new employee

---

Example:
Service Rep turns on Robot to delete customer data from multiple databases as part of GDPR "right to forget" request

---

Example:
Robot polls a network drive for files to process

---

Example:
100% automation Robot
processes invoices
Robot loads data into a system like SAP
---
Automate Anything That Can be Automated
Hyperautomation has RPA at its core and expands automation capability with artificial intelligence (AI), process mining, analytics, and other advanced tools.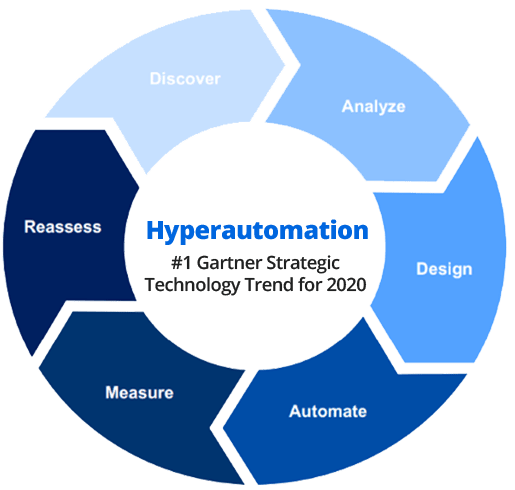 "
We see RPA as the gateway to intelligent automation, or what you would call Hyperautomation.
-Aftab Ahmed, Program Manager, Emerging
Technologies, ConocoPhillips
---
"
By 2024, organizations will lower operational costs by 30%
by Combining hyperautomation technologies with redesigned operational processes
Source: Smarter with Gartner "Gartner Top Strategic Technology Trends for 2020" October 21, 2019.
https://www.gartner.com/smarterwithgartner/gartner-top-10-strategic-technology-trends-for-2020/
---
Become a Fully Automated Enterprise With The UiPath Platform
Measure and govern automation programs to align with business outcomes
Discover

Discover automation opportunities powered by AI and your people

Build

Build automations quickly, from the simple to the advanced

Manage

Manage, deploy, and optimize automation at enterprise scale


Run

Run Automations through robots that work with your applications and data

Engage

Engage people and robots as one team for seamless process collaboration
---
How Will
AUTOMATION

Impact Your Business?

93% of organization say that automation kickstarts digital transformation*
---
UiPath Clients