SAP Business One
Maintenance & Support
Sterling Team (STEM) helps clients in Indonesia and region meet the needs of their ever more demanding customers. We understand that to be successful, a business must be able to deliver competitive prices, better products, and innovative level of services to provide unique customers' experience.
With our experiences and skills, we have gathered understanding in numerous models of business processes as well as systems. Our focus is on delivering tangible business benefits on top of successful ERP implementation.
---
Our Service
Maintenance and Support in ERP system as like in SAP Business One play very important role. SAP Business One Integrate all department and it became very important to keep the system runs all year long to support your business. As your business grows you might need new reports, new business processes or even new company to be put in the system.
Sterling Team invests on dedicated pool of SAP experts to support as well as improve your SAP Business One Systems And furthermore, you can even monitor every case reported by your company with our ticketing application. Discover how our support team can help you optimize operations with less budget – freeing up more resources for innovation.
Technical
Support

This package is the most basic package and mostly helping customer on technical issues and handling error message of SAP Business One and our STEM Add-ons.

Operational
Support

Includes operational challenges support, It's all about understanding your particular needs, your unique problems and taking a proactive approach in solving them—even finding alternatives that you, our valued customer, may not have considered.

Enhancement
Support

SAP Business One implementation is just like other ERP implementation, system implementation is just a beginning along the way, the system need to be updated to adjust to business needs such as additional Reports, or new feature need to be implemented.
Support Response Time
We are committed to providing deep assistance and understanding of the SAP Business One platform, which will help you optimize the use of this system in your business. We are ready to offer the best solutions and answer your questions related to SAP Business One. So, let's explore together how SAP Business One can transform your business to be more efficient and successful.
4 Companies

Novation From Other Partner

3 Hours

Average Total Response Time

1,5 Hours

Average 1st Response Time

100%

Still Under Maintenance & Support
SAP Global Recognition for Experience and Achievement
PT. Sterling Tulus Cemerlang (STEM)
STEM proudly announces that we have been awarded the Marketing Excellence Asia Pacific Japan Award in 2022 by SAP, a renowned name in the world of technology. This award is bestowed upon us as a recognition of our informative and valuable educational content on SAP Business One Tips. It stands as evidence of our commitment to providing the best service to our customers and becoming a reliable partner in the world of technology. We express our heartfelt gratitude to all our customers and our team who supported us in achieving this recognition. Stay tuned with us for further information on the latest innovations in the business solutions we offer!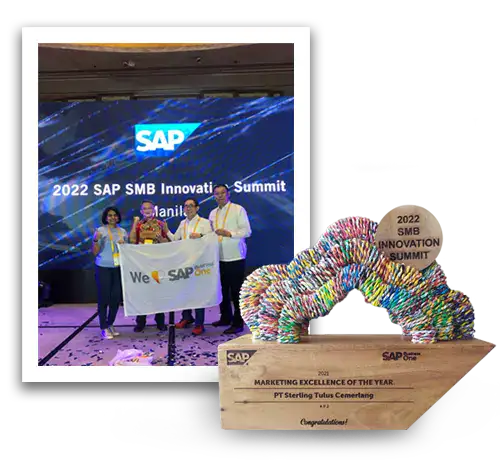 The LARGEST SAP Business One Certified Consultant in Indonesia
30+
SAP Certified Consultant