SAP HANA is a comprehensive platform that combines a robust database with services for creating innovative applications. It enables real-time business by converging transactions and analytics on one in-memory database. Running on-premise or in the cloud, SAP HANA untangles IT complexity and democratizes in-memory computing, bringing huge savings in data management and empowering decision-makers everywhere with new insight and predictive power.
Read also: 5 Advantages of SAP with Hana You Need to Know
Why use SAP HANA
Objectives using SAP HANA
Accelerate response and analysis while simplifying IT
Acquire and integrate data from a wide range of sources to boost visibility
Uncover new insights to help stakeholders work smarter
Ride the next wave of change with innovative new applications
Maintain security and business continuity
Benefits using SAP HANA
Accelerate data processing for real-time insight and action
Draw insight from complex data sets and ongoing transactions without compromising data privacy
Reimagine business processes and create innovative applications
Achieve business agility and streamline IT

Learn from PT. Bando Indonesia on how they use SAP HANA database to support their SAP Business One ERP.
More information about How SAP Business One version HANA, leverage the SAP HANA powerful database in real-life business ERP application with us PT. Sterling Tulus Cemerlang SAP Gold Partner in Indonesia.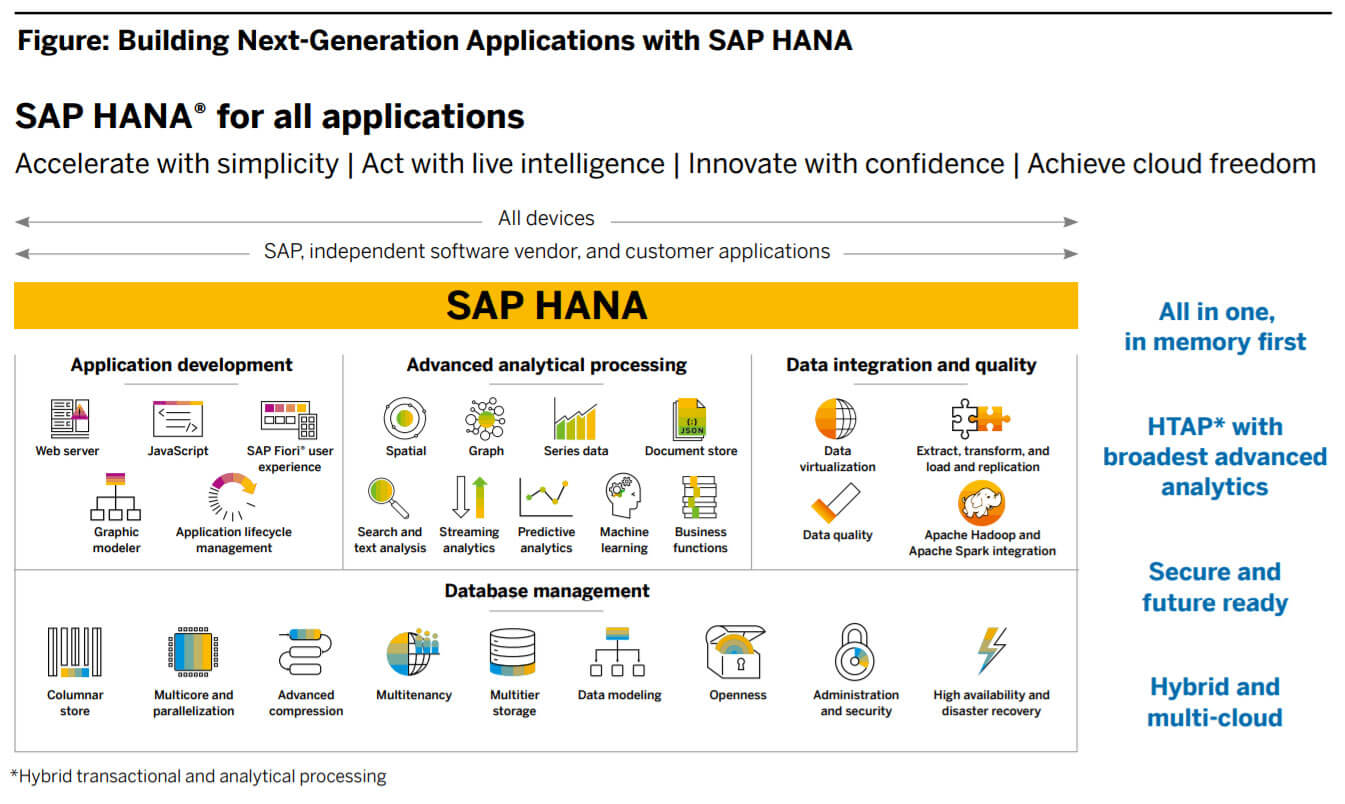 An intelligent enterprise requires a business-ready data platform that helps you find the signal in the noise and unleash your data's potential for better business outcomes. SAP HANA provides the next-generation data management foundation for all of the industry-leading SAP solutions. It also enables the development of cutting-edge applications to deliver intelligent solutions for the enterprise quickly.
SAP HANA is one of the first data management platforms to handle both transactions and analytics in memory on a single data set. It converges a future-proof database with advanced analytical processing and capabilities for application development, data integration, and data quality.
Embedded in a robust, state-of-the-art security framework, it supports compliance with the latest security standards and data protection regulations. You gain a single secure environment for all your mission-critical data assets. You can manage large volumes of structured and unstructured data efficiently, leveraging the value of your business data while improving total cost of ownership (TCO).


SAP HANA provides next-generation hybrid transactional and analytical processing (HTAP) with the broadest advanced analytics capabilities to help business leaders understand the information in context and achieve situational awareness to act at the moment. This includes native high performance predictive and machine learning algorithms and integration with TensorFlow and R through native APIs to reveal meaningful patterns in data and build applications that can learn and automate manual business processes. Text analysis and search capabilities help extract real insights from unstructured textual data in many different languages.
Read also: SAP Business One Hana for Small and Medium Enterprises
SAP HANA can store, query, and apply machine learning to streaming data from sensors, plant equipment, and Internet of Things devices; time-series data such as price fluctuations and information on machine efficiency; and highly interconnected graph data. It provides a JavaScript Object Notation (JSON) document store. These powerful capabilities can be leveraged with standard SQL, enabling data to be combined from standard relational databases, spatial and graph data, and data stored in a JSON document. Many new possibilities can help you reimagine business models.

SAP HANA connects with existing applications using open standards and offers a choice of ways to build applications that are Web-based or based on microservices. SAP Web IDE for SAP HANA offers a comprehensive lightweight toolset for data modelling and application development.

The application development capabilities of SAP HANA include support for a variety of programming languages, including JavaScript (Node.js), Java, and Python through native APIs, but they also let you bring in additional languages and runtimes. SAP HANA contains several embedded business functions, such as discounted cash flow and interest rate management, to accelerate development. The functions run inside the database for optimal performance and can be called directly from SQL or used within SQLScript. SAP HANA includes a framework that lets you create your own data processing algorithms to run inside the database. You can build enterprise-class non-SQL (NoSQL) applications with support to store schema-flexible data in JSON format. You can combine JSON data with structured data, then query or analyze it using SQL.
Companies worldwide use SAP HANA to transform their business and create value. To deliver timely action and to accelerate with simplicity, SAP HANA can help you unleash next-level performance with the simplest all-in-one, no-compromise business data platform that democratizes in-memory computing.
SAP Business One version for SAP HANA
Conventionally SAP Business One is mainly used in Windows Environment with Microsoft SQL Server at its core RDBMS. SMEs till a few years back using SAP Business One for regular Back Office Process and Accounting management fond out this approach to be quite ideal. But nowadays, when the database size increased to Terabytes and SMEs are relying more and more upon getting real-time analytics (Reports and Dashboards).
SAP HANA is the in-memory computing platform for SAP Business One that supercharges the application performance for speed and allows you to analyse massive amounts of data in real-time. SAP Business One powered by SAP HANA eliminates layers of complexities and unnecessary business costs found in legacy IT architecture so your business can run smarter, faster, and simpler.
Benefits of using SAP Business One version for SAP HANA
Improve responsiveness – embedded real-time
Interactive reports – pervasive analytics
Maintain a simplified IT landscape – a single platform for Online Transactional Processing (OLTP) and Online Analytical Processing (OLAP)
More information about How SAP Business One version HANA, leverage the SAP HANA powerful database in real-life business ERP application with us PT. Sterling Tulus Cemerlang SAP Gold Partner in Indonesia.