PT. Sterling Tulus Cemerlang helps small business Indonesia to the next level with affordable world class software SAP Business One Hana on Cloud.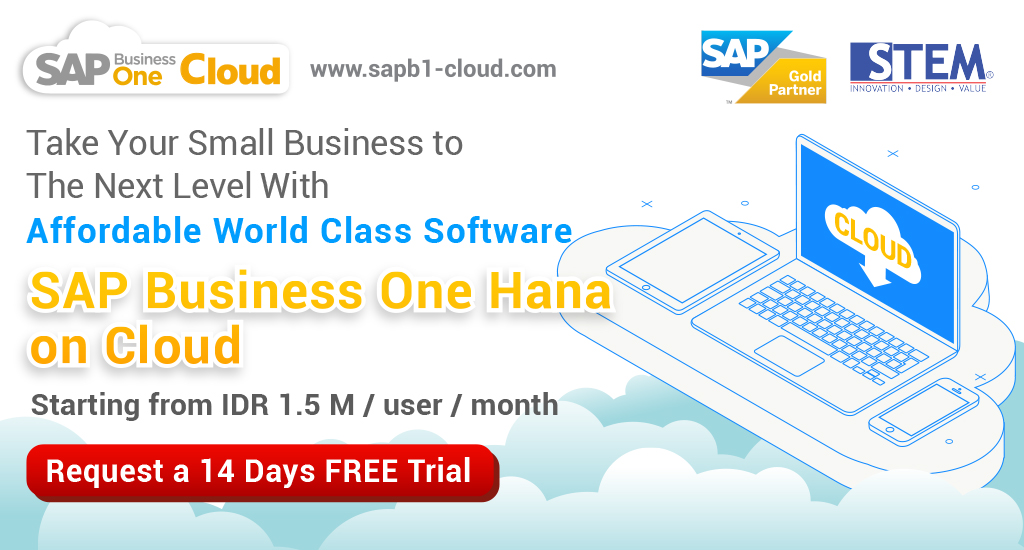 With SAP Business One Hana on Cloud small companies can use an affordable system to integrate and streamline your entire business processes – from purchasing, sales, inventory, financial, accounting, assets and more. And because the solution is deployed and managed by experts in world-class data centers, you can spend more time on business innovation – and think less about Information Technology.
With a very affordable monthly price starting from 1.5 million rupiah, you can start using SAP Business One business system with the latest technology HANA. These include Infrastructure services, hardware, software licensing, maintenance, and customer support services. You pay only what you use, without the need to invest early to buy and prepare the infrastructure, hardware and software first. So that your small company can start using the world-class business system SAP Business One Hana simple and fast, which usually only can by middle-upper companies.
SAP Business One's Hana on Cloud solution also integrates with our iREAP POS Pro mobile POS Solution service that has been available for more than one year. With this synergy we are confident we can provide solutions to entrepreneurs with the best solutions at affordable prices, especially for Indonesia's retail industry.
PT. Sterling Tulus Cemerlang is GOLD Partner of SAP Indonesia for SAP Business One application, with more than 10 years' experience providing solutions especially for medium companies in various industries such as Retail, Manufacturing and Distribution. With this new service, we are confident to contribute in helping Indonesian entrepreneurs using information systems and taking your business to the next level to became a medium or even large enterprise.